The Wedding reception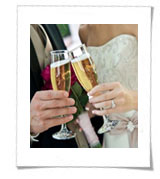 The wedding reception is the very last public moment of a marriage day, and it's also the one that the bridegrooms' guests remember the most. Therefore it's best to avoid overdoing it and keep to something sober yet elegant. It is very important, before deciding the style that one wants to give the reception party, to take into consideration the number of guests, your relationship to them, their average age and obviously your own personal taste.
&nbsp


&nbsp
Where

There are many possibilities when choosing the venue for your wedding reception. Sorrento and its surroundings offer a vast array of options: you may opt for a traditional ceremony in a restaurant or in a hotel, or choose to celebrate in a villa or an ancient site such as a picturesque castle or even celebrate in a romantic venue on the sea.
One more option would be a return to traditional wedding customs by organizing the party in your own home; given that one has the possibility to do so (in this case we suggest you contact a catering company).
&nbsp

<
&nbsp
How and when

It's very important to decide what type of reception you want to offer; usually for weddings, lunch or dinner is preferred. Nevertheless according to the time of the ceremony you may also choose to give a buffet reception or a cocktail party with music and dancing.
If you do choose a buffet menu, it's very important that a sufficient number of tables are provided according to the number of guests and that enough personnel are available to provide necessary service and avoid long standing cues.
&nbsp
Some suggestions:
&nbsp
The choice of the venue and the menu, are also linked to the time of the year when you have the wedding. If you decide to celebrate outdoors, be sure to have also sufficient covered room in case the weather turns bad.

It's best to personally choose the menu, check the quality of food and beverages (especially wine), take care of the table display and the flowers as well as the seating arrangement of the guests, this last aspect would be best if indicated on a list/ map at the entrance of the wedding venue.
&nbsp
Given a fixed budget it's best to give up one course rather than compromise on the quality of food and drinks.

In the case of a lunch or dinner reception it's also important to make sure that the service is not too fast nor to slow between courses. In general it's best that the full length of the ceremony does not become excessive.

If a large number of children is expected, you might want to call an animation agency that will entertain your little guests.

Once you have decided the date of the ceremony and given the availability of the church, it's best to book the venue well in advance, possibly twelve months before.