The Cloister of San Francesco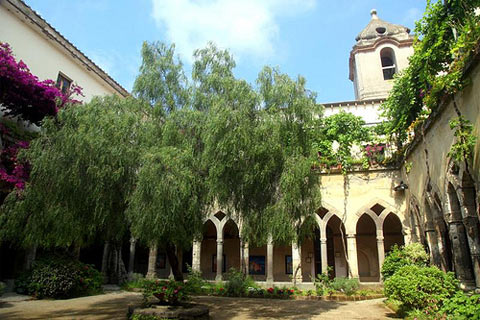 One of the possibilities offered by the City of Sorrento is to celebrate the civil wedding in the cloister of San Francesco, a wonderful cloister of the 13th century, intimate and quiet, with walls covered in vines and bougainvillea that offers a magical setting for a civil ceremony.

Just outside the cloister of Saint Francesco, you can enjoy the sea view over the Gulf of Sorrento and the bay of Naples from the terraces of fragrant gardens of the Villa Comunale, where the photo opportunities are endless.

The cloister is often decorated and adorned by skilled sorrentine florists, a wedding at the Cloister of Saint Francisco (or St Francis Cloister) suits those who want an intimate wedding and relaxing in beautiful surroundings.

Chosen each year by hundreds of brides and grooms who come for the ceremony by car, by Vespa, Ferrari, Fiat 500, or even in a traditional horse and carriage, the typical sorrentine vehicle.
» other beautiful wedding venues in Sorrento, Italy

LEAVE A COMMENT