Villa Fondi de Sangro
Another beautiful spot for to celebrate civil weddings on Sorrento coast is Villa Fondi de Sangro, located in Piano di Sorrento and it is known to most simply as Villa Fondi.
The Villa is a fine example of neoclassical architecture, was built in 1840 by the Prince of Fondi, Don Giovanni Andrea de Sangro, in the exceptional setting of a park and a terrace overlooking to the sea above the Marina di Cassano in one of the most beautiful and scenic areas of the Sorrentine Peninsula.

Destroyed by the earthquake of 1980, the Villa and the beautiful park surrounding it were purchased by the city of Piano di Sorrento, which has restored them turning them into a multifunctional structure, also home to exhibitions and conferences, events and cultural events and especially the Regional Archaeological Museum of the Sorrento Peninsula .

Villa Fondi is surrounded by a typical garden-style mid-nineteenth century, now a public park, with lush plants and trees, especially olive trees and various species of palm trees. It is suitable for those who love nature, the scent of the sea and want a wedding enjoyable and relaxing in an exceptional setting.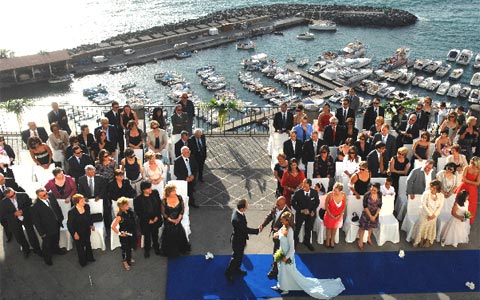 » other beautiful wedding venues in Sorrento, Italy

LEAVE A COMMENT