Capri Weddings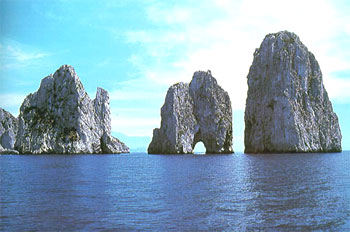 The island of Capri is just off the Sorrentine Peninsula, on the south side of the Gulf of Naples. It has been a resort since the time of the Roman Republic.
Features of the island are the Marina Piccola (Small Harbor), the Belvedere of Tragara, which is a high panoramic promenade lined with villas, the limestone masses called Sea Stacks that stand out of the sea (the Faraglioni), Anacapri, the Blue Grotto (Grotta Azzurra), and the ruins of the Imperial Roman villas.
The City of Capri is the main centre of population on Capri. It has two adjoining harbours, Marina Piccola and Marina Grande (the main port of the island). The separate commune of Anacapri is located high on the hills to the west.
The etymology of the name Capri can be traced back to the Greeks, the first recorded colonists to populate the island. This means that "Capri" was probably not derived from the Latin "Capreae" (goats), but rather the Greek "Kapros" (wild boar).
A Wedding in Capri is the most romantic and fabulous thing that a couple can do...
» other beautiful wedding venues in Sorrento, Italy

LEAVE A COMMENT