Weddings in Amalfi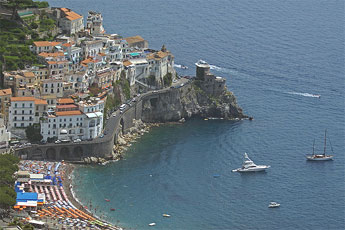 Amalfi is the main town of the coast on which it is located, named Costiera Amalfitana, and is today an important tourist destination together with other towns on the same coast, such as Positano, Ravello and others. Amalfi is included in the UNESCO World Heritage Sites.
The town of Amalfi with its is colors and different views, is a spectacular location for the marriage. It lies at the mouth of a deep ravine, at the foot of a Mountain, surrounded by a coast imposing sort of tall cliffs, deep throats and hidden beaches.
People form from the whole world come here for realizing their dream of love...

Amalfi has an ancient history, founded by the romans, was an independent republic from the seventh century until 1075. The Maritime Republic of Amalfi was one of the four great naval powers, together with Pisa, Genoa and Venice.
You can see the history everywhere in town, the Cathedral with its magnificent bell tower dates back to the 13th century, the Cloister of Paradise, next to the cathedral, is home to old mosaics and paintings, and 120 columns built in the Arabic style.

The Amalfi coast is famed for its production of Limoncello liqueur and home-made paper used throughout Italy for wedding invitations, visiting cards and elegant writing paper.
» other beautiful wedding venues in Sorrento, Italy

LEAVE A COMMENT